Henry Ivers & The move to Ireland
A parchment found in the sideboard at Mount Ievers in July 2012 maintains that Henry Ivers arrived in Ireland in 1640 from Yorkshire, where the family had been settled since arriving with William the Conqueror nearly six hundred years earlier. It also records that Henry settled in County Clare in 1643 when he was appointed Collector of Revenue for Clare and Galway.
It is sometimes said that the Henry was a younger son of Sir Sampson Eure and thus a younger brother of John Eure. However, as we have seen, there is no mention of any such Henry in Sir Sampson's will, and no obvious grounds for thinking Sir Sampson had a second son.[i] Given the above claim that Henry came from Yorkshire, is notable that Sampson's brother Horatio lived in Yorkshire and that Sir Sampson's will refers to his nephew George Eure of Yorkshire. Hence, while his name does not appear in the family pedigree, perhaps Henry traces his descent from Horatio's line, which would explain the family lore that he was a kinsman of Sir Sampson. Perhaps Henry, like the aforementioned George (who became 6th Baron Eure in 1652) allied himself to Cromwell and was thus written out of the English family pedigree.
It is also sometimes suggested that Henry was a kinsman of Isaac Ewer, the Regicide, and simply changed his name from 'Ewer' to 'Ievers' in order to put some distance between himself and the disgraced Isaac. This remains a plausible option. Although it is unlikely that Henry was Isaac's son, he could have been a son of one of Isaac's brothers, John or William. Indeed he may have been a brother of Captain Isaac Ewer, a nephew of the Regicide, for whom John Thurloe, Cromwell's spymaster (and a brother-in-law or stepbrother of Isaac the Regicide), unsuccessfully sought a job in Ireland with Henry Cromwell.
And then there is the mysterious chimney breast at Mount Ievers, dated 1620, which gives the name "IOHN IEUERS" alongside the unexplained letters approximating to E' S MR. Who on earth was this chap!? And what is a chimney breast dated 1620 doing at Mount Ievers given that most sources suggest Henry Ievers did not settle in County Clare until the 1640s? Did the chimney breast come from somewhere else and, if so, where?
Another factor that should be born in mind is that when Henry's eldest son and namesake Henry Ivers became the father of a boy in 1662, he named his child Ambrose Ivers. The London Church Registers record the marriage of a man called Ambros [sic] Ivers to Anne Barlowe which took place at St Matthews, Friday Street, London, on June 15th 1578.[ii] There is also a Richard Ivers who married Hellen Sharman, on September 27th 1599, at St. James', Clerkenwell. Could these be clues to finding a London-based Tudor ancestor of the Ivers?
Mr. Fowle & the O'Brien connection
Henry Ievers story begins with his arrival in Ireland as a Clerk to Mr. Fowles, barrister. This would appear to be Thomas Fowle of Dublin.[iii] Records at Gray's Inn show that Mr. Sampson Eure (as he was then) and a Mr. Fowle were contemporaries in 1631, which may be relevant. He may also have been connected to the Sir Thomas Fowle (1637-1692) who became Sheriff of London and Prime Warden of the Goldsmith's Company in the Restoration era, although Sir Thomas appears to have been of a later generation.
Thomas Fowle was also connected to Sir Donough O'Brien of Leamaneh or Lemeneagh Castle (and later of Dromoland) who was one of the most influential men in County Clare in the late 17th century. Sir Donough (or Donat) was a young man when his father Captain Conor O'Brien was killed fighting General Ireton in 1651. He was then allegedly apprenticed to a London goldsmith who may well have been a connection of the afore-mentioned Thomas Fowle. It is certainly notable that in 1666, Thomas Fowle obtained a judgement for £1,800 principal against Cornet John Cooper of Bunratty, a Cromwellian officer who had married Sir Donough's formidable mother Mary Roe.
Westropp describes Sir Donough's mother as follows: 'Maura,'—or, as she is known in East Clare, 'Maureen' Rhue (Little Mary), or, by some English-speakers, 'Moll Roo,'— used to hang her maids by their hair from the corbels on the old peel tower. Others said that she cut off the breasts of her maids. I was told in 1878-81 that she married 25 husbands, all the later ones for a year and a day, after which either of the pair could divorce the other. She used to put her servants into all the houses of her temporary husband, and then suddenly divorce him and exclude him from his property. She was a MacMahon and had red hair (whence her name), and she and Conor O'Brien used to ride at the head of their troops in the wars.'
The story runs that after Conor was mortally wounded, his servants brought him back, nearly dead, to his wife at Lemaneagh. 'She neither spoke nor wept,' but shouted to them from the top of the tower, 'What do I want with dead men here?' Hearing that he was still alive she nursed him tenderly till he died. Then she put on a magnificent dress, called her coach, and set off at once to Limerick, which was besieged by Ireton. At the outposts she was stopped by a sentinel, and roared, and shouted, and cursed at him until Ireton and his officers, who were at dinner, heard the noise and came out. On their asking who was the woman, she replied, 'I was Conor O'Brien's wife yesterday, and his widow today.' 'He fought us yesterday. How can you prove he is dead?' 'I'll marry any of your officers that asks me.' Captain Cooper, a brave man, at once took her at her word, and they were married, so that she saved the O'Brien property for her son, Sir Donat.'
'At Lemaneagh it is added that one morning, after her marriage to Cooper, they quarrelled while he was shaving, and he spoke slightingly of Conor O'Brien. The affectionate relict, unable to bear any slur on the one husband she had loved, jumped out of bed and gave Cooper a kick in the stomach from which he died.'
There are many other myths about Maura, including one that suggests that, after killing the last of her twenty-five husbands, she was 'fastened up in a hollow tree'. Westropp maintained that, during his own childhood, her red-haired ghost still haunted the long front avenue, near the 'Druids' altar'.
In any event John Cooper was in possession of the lands of Tarbert, County Kerry, in 1666, when these lands were seized by Thomas Fowle in lieux of money owed. Laurence Steele, Fowles' executor, subsequently let these same lands to Henry Ivers for £100 per annum, to be paid at Strongbow's Tomb in Christchurch Cathedral.
Sir Donough O'Brien was appointed Sheriff of Co. Clare in 1690 during which troubled time he followed the orders of Lord Deputy Tyrconnell and confiscated the horses of Co. Clare's principal gentry of Clare. He represented Co. Clare in the Irish Parliament from 1695 to 1713. He was created a baronet by patent, on November 9, 1686, and built the gate before Lemeneagh, adorned with his arms as baronet. He also created a great avenue known as Sir Donough's-road. He was confirmed in Cahermoyle in June 1678, by act of settlement. He married twice, his first wife being Lucia Hamilton, a niece of the 2nd Duke of Abercorn and sister of the exiled Antoine Hamilton, author of 'The Memoirs of Count Grammont'. Lucia's sister Elizabeth, Countess de Grammont, known as "La belle Hamilton", served as Dame du Palais to Maria Theresa of Spain and was one of the Windsor Beauties painted by Sir Peter Lely.
His second wife, Elizabeth Deane, was a daughter of Joseph Deane, Chief Baron of the Irish Exchequer, whose grandfather had been a close ally of Oliver Cromwell. In his later years, Sir Donough moved from Lemeneagh to Dromoland where he died on 19th November 1717, aged 76. He is recalled by a handsome Corinthian monument in the Church of Kilnasoolagh in Newmarket.
The Butlers of Ballysheen
Henry Ievers wife Elizabeth Butler, who died in 1709, was a daughter of Captain Stephens of Ballysheen, Co. Clare. She may have been the widow of a Mr. Butler but further details are required to confirm this. It could be relevant that the Hamiltons of Co. Clare (including Sir Donough O'Brien's wife Lucia) were also Butlers through their mother, Lady Mary Hamilton (nee Butler), a sister of the Great Duke of Ormonde. Ballysheen, where Captain Stephens apparently lived, is located a mile from Sixmilebridge. When Henry Ievers died in October 1691, his will witnessed by three men - William Butler, Henry Stephens and Richard Wilson. Henry Stephens was still leasing land in the parish of Ballysheen from the Earl of Thomond during Queen Anne's reign (1702-1714) and he may well have been Captain Stephens, or a son of the captain.[viii]
In his 1977 report, Eyre Ievers deduced that Henry Ievers and Elizabeth Stephens were married circa 1642. This is based on the fact that Henry's eldest grandson Ambrose was aged 16 when he entered Trinity College Dublin in 1678. By deduction, Ambrose was thus born in about 1662. Ambrose's father Henry had married without parental consent. In order to do so, he had to be at least 18 years old. As such, he would have been born circa 1643 or 1644. Henry was Henry and Elizabeth's firstborn son.
Henry is believed to have settled in Co. Clare by November 1643 when he was appointed Collector of Revenue for Counties Clare and Galway. His timing is certainly curious, given that the Catholic Confederation of Ireland controlled so much of Ireland at that time. As the 19th century historian John D'Alton noted, collecting tax in Clare and Galway 'was hardly a lucrative post as the Confederates controlled both counties.'[ix]
In 1641, the Catholics of Ulster launched a rebellion and the Confederate Wars commenced, pitting a fragile alliance of Irish and Anglo-Norman Catholic against the forces of English and Scottish Protestant Republicanism. Head-quartered in the Butler stronghold of Kilkenny, the Confederate forces produced many admirable victories, but were ultimately unable to sustain the pressure. Cromwell's brutal suppressions of the garrisons at Drogheda (with Isaac Ewer at his side) and Wexford overwhelmed the Confederacy. Limerick City was amongst the last of their strongholds to surrender; the Fannings of Ballyarrilla (alias Mount Ievers) were to pay the ultimate price for their resistance.
The collapse of the Confederacy enabled Cromwell to proceed with the confiscation of all property belonging to Catholics accused of complicity in the "rebellion". These lands were duly granted to soldiers who had fought in his victorious wars against the Royalist forces of King Charles I and the Catholics in Ireland.
Ballyarilla & The Fanning connection
Following the Cromwellian conquest, Henry Ievers secured ownership of the square tower house at Ballyarrilla (aka Ballyerrill or Ballyrella) which close to Ballintlea on the O'Garney River. This building was later flattened to make way for the present-day house at Mount Ievers.
According to Robert O'Brien, writing in 1871, there were 'still visible some foundations of the old castle but most of the stones were worked into the modern mansion house'. The mill later passed to the Pease family and was to play a pivotal role in providing the Dutch red bricks for Mount Ievers in the 1730s.
Illustrated by the English schoolmaster Thomas Dineley when he passed by in 1680, it is not known who originally built this tower house, nor when. No records of its construction survive, but it was probably built around 1470, in common with other local tower houses. By 1580, it was the property of Bryan Mac Namara, son of Daniel Roe.
Somebody was evidently still living there during the Confederate Wars because a new stone fireplace was installed in it with a date of 1648. The fireplace is now in the entrance hall of the present house at Mount Ievers. It may well be that the tower house was occupied by the Fanning family.
In 1641, the townlands of Ballyarrilla (alias Mount Ievers) and Lissananim (alias Iverstown) belonged to Thomas Fanning, a citizen of Limerick who was destined to be executed by the Cromwellian army following the siege of that city. Fanning, who had substantial landholdings in Co. Clare, was from a family who had been prominent in Limerick City for several generations. Both his father Dominick and his grandfather Nicholas served as Mayor of Limerick, in 1630 and 1649 respectively.
During the Confederate Wars of the 1640s, Thomas Fanning and his father Dominick were amongst the leading members of the Catholic Confederacy in south-west Ireland. In 1646, the Confederates began negotiations with James Butler, the Marquis of Ormond, who was then serving as Charles I's Lord Lieutenant of Ireland. However, the Fannings were amongst the minority who had little faith in Ormond's word of honour. When the Marquis's heralds arrived to proclaim the peace at Limerick on the evening of 20th August 1646, the Fannings showed their contempt for Ormond's deal by closing the city gates to them. The following day, John Burke, the Mayor, and some other aldermen, opened the gates and ratified the treaty. However, Dominick and Thomas Fanning called on the people to assemble at the Holy Cross. They then expelled the heralds, rejected the treaty, deposed Burke and elected Dominick Fanning as the new Mayor of Limerick in his place.
Dominick Fanning was to lead the citizens of Limerick in their resistance to a six month long siege by Henry Ireton's Parliamentarian forces, displaying remarkable personal fortitude and vigour. However, all fell apart when Colonel Fennell, 'an Anglo-Irish officer of ability but of depraved character', was entrusted by General Hugh Dubh O'Neill with the task of defending the important pass of Killaloe. Presumably fed up with the siege, Colonel Fennell promptly turned his guns against the city and Limerick was obliged to surrender on 29th October 1651. The garrison was allowed to depart to Galway which was the nearest fortress still held by the Irish.
Shortly after the surrender, Colonel Fennell was tried for several murders and other high crimes, found guilty and hanged by his new friends. Dominick Fanning hid in the tomb of his ancestors in the Franciscan Church but, utterly famished and frozen stiff, he was drawn out when a body of soldiers entered the church, lit a fire and began cooking. He endeavoured to join the soldiers and warm himself up but was ejected by the captain who took him for a beggar. While making his escape from the city, he was seized at the gate, brought back, and identified. He was immediately hanged, his body quartered and decapitated and his head placed over St. John's Gate, where it apparently remained for several years.
Although he was not present for their executions, William Layles, author of 'Account of Surrender of Limerick, 1651' 'hard [heard] for certaine from those that came after me abroad that the Bishop of Imly, Major Purcell, Dominic Fanning, both his sons and his brother … were putt to death'. Hence, it seems almost certain that the Thomas Fanning who owned the land where Mount Ievers now stands was executed by General Ireton shortly after his troops captured Limerick City.
Following the Restoration of Charles II, the Fannings were amongst those Catholic families who hoped to be reinvested with their former possessions. Under the Acts of Settlement (1662) and Explanation (1665), many such persons were indeed restored or at least partly recompensed. Thomas Fanning's heirs was certainly eligible under the terms of the Act as Ensigmen, or one of those who had rallied to the King's standard. However, there is no record of any Fanning receiving any such compensation.
Thomas Green
Thomas Fanning's lands at Ballyarrilla were forfeited to Thomas Green of Meelick, who was the Titulado in Knockballynameath in 1659. It is assumed he was an officer of rank in Cromwell's army and that these lands were a reward for his service. In 1664, Green and John Cooper jointly established the famous oil mills at Ballintlea which would later play a pivotal role in the construction of Mount Ievers through a barter arrangement for Dutch bricks.
Despite attempts to reclaim the land by the Fanning family, the lands at Ballyarrilla remained with Thomas Green until 1672 when he transferred them to Henry Ivers. That same year, Green also acquired lands at Cloonanery, Pollagh, Ballynevan, Knockatoreen and Ballycullen from Viscount Clare.
"24 Jul 1657 - Order made by the Commissioners for adjudication of the claims of the Irish in Connaught and Clare, by which Dermott Ryan is empowered to enter into 109 acres in the quarter and third of a quarter called Ballymoluane and 100 acres in the quarter of Lecaraghbegge, in the parishes of Killokennedy and Killalow [alias Killaloe], barony of Tullagh, County Clare. Endorsed with assignment of his interest by Ryan to Henry Ieuers [alias Ivers]"
The rise of Henry Ievers
According to the Hon. Robert O'Brien's notes in 'The Journal of Thomas Dineley', 'Henry Ivers, Gent' was recorded on Dr. Petty's Census of 1659 as the Titulado (ie: principal landowner) of Ballymolony in the parish of Killokennedy.[xvi] Ballymolony is located between Sixmilebridge and Cloonlara. In 1661 he was appointed Clerk of Kings Commissioners for settling quit rents, a position which provided him with an excellent opportunity to acquire considerable wealth. He rose through the ranks to become Deputy Receiver. He may have acquired lands in Ballyluddane East, where Mount Ievers stands, as early as 17th June 1666 when a patent was granted to him. In 1667, he was granted over a thousand acres of counties Clare and Galway.
In 1668, Henry Ievers was appointed agent to Colonel Daniel O Brien, who succeeded his father to become 3rd Viscount Clare in 1670.[xvii] Henry went on to obtain leases of a considerable extent from Lord Clare. In 1669, he was appointed Justice of the Peace for Co. Clare. Lord Clare was married to Philadelphia Lennard, a sister of Thomas Lennard, the cricket-loving Earl of Sussex, and a great-granddaughter of Sir Henry Lennard who was Sir Sampson Eure's first cousin.
In terms of the Eure-Chevening connection, it is certainly of interest that Henry Ievers was agent to a man whose wife was not just a Lennard but a granddaughter of Richard Lennard, 13th Baron Dacre, the man who built Chevening House in Kent. That said, it may simply be that Henry exaggerated the family connection to Sampson Eure and the Lennards by then building a house in this style.
By 1672, Henry had secured from Thomas Green the townlands of Ballyarrilla (ie Mount Ivers) and Lissananim (ie Iverstown).[xviii] Green also made over his mortgage to Henry for the lands of Cloonycornymore, Pollagh (alias Gortpullagh), Ballynevin, Ballycullin and Knockatooreen.[xix] He also appears to have acquired parts of Barbane (forfeited by Daniel, son of Teige MacNamara), Formoylemore and Formoylebeg (forfeited by McNamaras and McCusacks) and Faunarooska Castle (with James Aylmer).
In 1673, Henry was appointed High Sheriff of Co. Clare, a position his son and grandson would also fill. The following summer, Lord Clare was appointed commander of a newly raised regiment of foot, Clare's Regiment of Foot, which was to serve within the Dutch Service.
The Inchiquin Manuscripts
"The Inchiquin Manuscripts, lodged in the National Library of Ireland and published by John Ainsworth in 1961, consists of an array of historical material including legal, rental, estate and personal papers in the possession of the O'Briens of Leamanegh and Dromoland. The utility of the Inchiquin Manuscripts is difficult to over-estimate for their usefulness in casting light on landholding and inheritance arrangements amongst Gaelic lineages in the late sixteenth century. The specific focus on Co. Clare families lends further efficacy to this primary source; much local information can be gleaned by recourse to this source which serves as a repository of documents relating to landholding in early modern Co. Clare."[xx]
The above remarks by historian Luke McInerney neatly surmise the importance of the Inchiquin Manuscripts in which the name of Henry Ivers (aka Iures) frequently crops up, with occasional references to his son and heir John. I cannot pretend to fully understand what all these legal documents mean so, rather than try, I have simply copied the vast bulk of these references into this chapter.
"13 Jan. 1667 - 19 Chas. II. Lease by Henry Ivers of Ballymullana, Co. Clare, gent., to Donough O'Brien of Leameneh, esq.; of the castle, town, and one of the two quarters of Ballyganner, in the parish of Nohauell, barony of Burren, Co. Clare; for 21 years at £8 rent, to be conveyed at any time during the said 21 years to the said Donough on payment of £84 to the said Henry. Signed & sealed. Henry Ivers." [xxi]
"13 Jan. 1667 - 19 Chas. II. Lease by Donough O'Brien of Leameneh to Henry Ivers of Ballymullana, Co. Clare, gent., of the cartron of Polenefucka and the third of a quarter of Mogowhybegg, both parcel of Mogowhy, in the parish, of Karne, barony of Burren, Co. Clare ; for 21 years, at 30/- rent, the lease determinable on payment of £10, after which O'Brien will give Ivers an estate in fee of the said lands. Signed & sealed. Hen. Iuers. Witnesses. Ter Mc Mahon; Matthew Mc Mahon; Ed. Mc Caffrie; Terlagh O'Loughlen [mark]; William Tirry. Endorsed with memorandum of having been produced to Tirry, at Edward Line's house on the lands of Mount Ivers, 22 Oct. 1685."
"1 June 1668 - Lease by Henry Ivers of Ballinaclonna (?), Co. Clare, gent, (acting by authority of Col. Danll. O'Brien for setting his estate in Co. Clare for one year); to Donough O'Brien of Leameneh, Co. Clare, esq. ; of the three plowlands of Ballyganner, the quarter of Nohavall (7ga.), the third of a quarter of Ballyhamulta (ioa.), and the quarter of Carrowcoolranagh (5ia.); rent £52.19.6, with 6d. in £ fees (iad. in case of distraint) the lessee paying all taxes. Signed & sealed. Henry Iuers. Witnesses. Ter Mc Caffrie ; Henry Lownds. Endorsed with memoranda of having been produced to Daniel [O'Brien] Viscount Clare (19 Jan. 1685); to McCaffrie, Therluagh O Laghlin, John Macnemara, and Mortagh 0 Bryen (30 Oct. 1685)."
"14 Nov. 1670 - Lease by Hen[ry] Ivers on behalf of Col. Daniel O'Brien to Donough O'Brien of a cartron of Gorteneloghy (Gortneglogh) 'being part and p[ar]cell of the half [quarter] of Erenagh in the barony of Insiquin ...[sic]' for 21 years or 3 lives at 40 shillings yearly.. 1 p. 4 items."
[In 1676, Henry Ivers further boosted his landholdings when Viscount Clare sold him the lands of Teeronea and Knockatooreen (alias Stailduff).]
"27 Nov. 30 Chas. II. [1678]. Letters patent to Henry Ivers; Daniel [O'BrienJ Viscount Clare; and others, of lands in the baronies of Corcomroe, Islands, and Burren, Co. Clare."
John Ivers of Mount Ivers, gent., states that Henry Ivers of Mount Ivers, Esq., being, in the year 1680, seized in fee of Coohore, alias Ballyvoghane, made a letting of same, for 21 years to Dermot FitzPatrick, by lease dated the 3rd May 1690, at the yearly rent of £5'.[xxii]
"1682 - Brief [endorsed "Mr Willson"] on the foregoing case. Recites bill; answer of the first two defendants; replication of plaintiff; and depositions of the following: Robert Holmes, Henry Collpois, Henry Ivars [sic], Anthony Maude, Mannagh O Grady, and Standish Harstong (for the plaintiff). John Drury, Walter Hickman, Hen Colpois, Peeter Henchy, Wm. Starkey, Robert Holmes, and Anthony Maude (for the first two defendants). Pattrick Nihill, Theobald Buttler, Wm. Starkey, Hugh Me Inchyroe, Mortogh OMorane, Marie Cooper, Walter Hickman, and Henry Collpois (for the last defendant). The defendants Sir Joseph Williamson and Lady Catharine O'Brien state inter alia, " They believe not the said lease was depositted in the sd. Barrens hands upon the conditions or in any manner as in the bill or that the pit. relied on it as his maine security the settlement of the said lands being notoriously known by the generall reputation of the country & by the inrollmt : thereof in Chancery therefore the pit well understood or his councell might & did advise the pit of the drawing and determinacon of the sd lease by access to the freehold."
"5 May 35 Chas. II [1683]. Writ to the Sheriff of Co. Clare, to give George Comerford, gent., possession of 4 a. in Ballyganny alias Poleguilicka, 2a. 1r. in Glanslaid, ga. in one of the two quarters of Ballyganny (retrenched by Sir William King), and 6a. in parcels in common (retrenched by Henry Ivers, esq.) ; in the barony of Burren, Co. Clare, which were recovered by Comerford against Ivers. Latin"
"11 May 1683. Chancery bill of Shevan German alias Mahon of Dromelahy, Co. Clare, widow. Concerning refusal of Henry Ivers to account for the rents of Ballyganner and several other denominations, which he had agreed to " manage and follow " for the plaintiff, the said lands having been assigned to her by the Athlone Commissioners in lieu of her dower. This suit was dismissed by an order of the court dated 12 June 1684."
"2 Jas. II. [1686]. Order directing Henry Ivers, under penalty of £500, to comply with a Chancery decree in a case brought by him against Donough O'Brien, Daniel Hignett, Ralph Wilson, David Wilson, John Durey, and George Comerford, for possession of the castle, town, and lands of Ballyganner. By the decree, he is to pay the defendants £40 costs. It is stated, inter alia, that " ... Sir Ralph Wilson, deceased, having in [1668] as a Protestant purchaser a dificiency of [360] acres in ... Conought or ... Clare due unto him and not knowing where to place them to advantage recommended the same to be done by ... Hignett who was then Clarke to the Commissioners in the Court of Claymes who applied himselfe to the complt for directions ... promiseing him an advantage for soe'doeing ... though the complt had a good estate in fee of the said lands yet to coroborate the same proposed that difficiencyes might be placed on some of them and that ... Sir Ralph should passe ... six acres in Ballyganner ...".
"26 Aug. 2 Jas. II. [1686]. Order directing Henry Ivers, under penalty of £500, to comply with a Chancery decree in a case brought by him against Donough O'Brien for possession of the lands of Poulefoaka and Mogowhybegg, Co. Clare. By the decree, he is to pay the defendant £28 costs … endorsed by Sir Donough."
"25 Jan 1688/9 - Deed by which [Colonel] Daniel O'Brien of Carrighoult, esq., agrees to give back to John Coopper, esq., an assignment made by Coopper to Ralph Conyers and Henry Ivers in trust for O'Brien. Signed. D. O'Brien. Witnesses. John Scott; Henry Smith; Henry Lownds."
A wealthy landowner
On 21st June 1679, shortly before his eldest grandson Ambrose entered Trinity College Dublin, Henry obtained a patent on a further 2000 acres of Ballyluddane East. The patent also gave him 'power to hold a Saturday market, and two fairs yearly, on part of the land called Ballyrella, alias Mount Ivers.' [xxiii] This patent, together with others from 17th June 1666 and 27th November 1679, brought his total land-holding to 5,773 profitable acres, along with a further but unspecified 'larger extent of unprofitable acres.' [xxiv]
When Dineley visited Co. Clare in 1681, he called by Ievers new residence at Ballyrella and sketched the handsome building, complete with central tower, steps and side-towers. In his notes, he wrote: 'That Castle belonging to Henry Ivers, Esq, well scituate and capable of very considerable improvement a draught whereof I took on the other side this leafe. It is five miles and three quarters distant from Limerick'.[xxv] He also described Henry as follows: "This gentleman came over [as a young man, clerk to one Mr. Fowles, a barrister], since the King's Restoration, and hath, in this time, by his industry, acquired £1,000 a year. The first and chiefest of his rise was occasioned by being concerned in the revenue, as Clerk to the King's Commissioners for settling the Quit Rents, and afterwards became the Deputy Receiver, is now in the commission of the peace, not worth less than sixteen hundred pounds a year."[xxvi]
In 1682, Henry Ivers mortgaged several parts of the estate he had acquired from Thomas Green to Alderman John Leonard of Limerick for £500. When Leonard was later obliged to forfeit his claims because of his adherence to the Jacobites, his £500 was seized and re-granted by William and Mary to Limerick Cathedral where it was usefully spent on repairs to the aged structure.
"Written at night, 30 Jul. 1684. Henry Ivers to his brother in law Cornet John Cooper. Concerning the estate of Dromore, of which Lord Thomond requires an account. "... pray get a list of such lands ... as belonged to the house in 1641 which Captain O Brien can give you for I have not the survey of these baronies that returns the proprietors but for Insiquin ..."
The Williamite Wars
Henry's relationship with County Clare's Catholic magnates such as Lord Clare and the Hamiltons must have been considerably tested when war broke out between the deposed James II and the new king William of Orange. From his base at Carrigaholt Castle, Lord Clare was regarded as the foremost Jacobite in the area, a reputation he considerably enhanced when he ordered every Protestant man in the county old enough to fight to be rounded up and imprisoned in Clare Castle. Lord Clare was also one of four representatives from the county who attended James's hastily convened Parliament in Dublin which sought to overthrow the entire Cromwellian land settlement. He subsequently commanded a cavalry regiment (later known as Clare's Dragoons) which served, rather ineffectively, at both the Siege of Londonderry and the Battle of the Boyne.
Meanwhile, Sir Donough O'Brien, appointed Sheriff of Co. Clare in 1690, received orders from Lord Deputy Tyrconnell to confiscate the horses of Co. Clare's principal gentry. Lord Clare was declared an outlaw and attainted on 11th May 1691. Three days later, as the war spread ever closer to Clare, the Protestant gentry of the county, Henry Ivers included, drew up a petition to alert General Ginkel of the Williamite army that not everyone west of the Shannon was a rabid Papist, viz-a-viz:
"14 May 1691. Petition to the Lords Justices of John [Roane] Bishop of Killaloe, and Samuell Singe, Dean of Kildare; praying for the protection, by the generals of Their Majesties' forces, of the following persons, besides divers other Protestants now beyond the Shannon: Sir Donough O'Brien, Bt., and his family ; Symon Purdon, esq., and his family; Henry Ivers, esq.; Gyles Vanderlure, esq.; Thomas Cullen, esq.; John Colpoys, esq.; Henry Bridgman, gent.; John Cusacke, gent.; Thomas Spaight, esq.; George Stamer, esq.; Thomas Hickman, esq.; Samuell Burton, esq.; John Gore, esq.; George Rosse, esq.; Henry Lee, esq.; Augustin Ftz Gerald, esq.; Patrick Ftz Symon, Chancellor (?) of Killaloe; John Lawson and John Jones, clerks; the Deans of Killaloe and Kilfenora; David Berkely, clerk; Hugh Brigdall, gent.; Francis FitzGerald, gent.; Richard Glew, gent.; Henry Vanderstare, gent.; John Bizon and Edmund Pery, esqs., with their children and family; Henry Colpoys; Thomas and Peregreen Blood; Richard Wilson, esq.; Richard Hen, gent.; and Mountiforde Westrop, esq. Draft, lp., endorsed as follows: "then [delivered] the Lds Justices by the petrs [petitioners] owne hands, & by there Ldships [delivered] to Lt. Genl. Ginkle & by his Excellencye to the Secretary att war wth comands to returne him the same when hee gott beeyond the Shanon that care may bee taken effectually as was desired . . . wch. his Excellencye assurd the petrs."
In June 1691, Ginkel's forces finally succeeded in crossing the Shannon at Athlone and the Jacobite army was pushed back. Galway and Limerick were now the only two substantial towns in Jacobite hands. The Marquis de Saint Ruth, a French General, took charge of the Jacobite Army. and made a final stand at the hill of Aughrim, County Galway, less than 80km north of Mount Ievers. Thousands of Jacobite soldiers were killed, including Saint Ruth. Patrick Sarsfield, the commander of the cavalry gathered up what remained of the army and retreated to Limerick. It seems that on his retreat from Aughrim Sarsfield spent a night in a tavern in Ennis. He was hotly pursued by the Williamites and there is a record of Lt. Gen Sheldon camping at Sixmilebridge with some 1500 horses.
Limerick was surrounded on all sides and the final despairing action of the war was fought 25km south of Mount Ievers at Thomond Bridge, the bridge that connected Co. Clare with the city of Limerick. About 850 soldiers defending the bridge against the Williamite advance suddenly found the gates to the city locked behind them. Realizing these men faced certain slaughter, Sarsfield called it a day and surrendered. The war was over.
The Treaty of Limerick, signed on 3rd October 1691, permitted the Irish army to go to France. All landholders in Co. Clare who had supported James II were attained for high treason and stripped of their estates. Lord Clare, who had been Henry Ievers boss before the war, was the biggest casualty, losing over 80,000 statute acres. These were presented to the king's Dutch friend Joost Van Keppel who sold them on for £10,000 to three Protestants who became, with Ievers, part of the new Co. Clare elite - Nicholas Westby, Francis Burton and James MacDonnell. It is notable that Henry Ievers son and heir John was a Colonel in Clare's Dragoons.
Lord Clare fled to Europe, in command of the Clare Dragoons, which would go on to achieve considerable distinction serving France on the battle fields of Europe during the Nine Years War (1689-1697), particularly at the battles of Ramilles and Fontenoy.
Death of Henry Ievers
Henry Ievers died on 28th October 1691, just over three weeks after the Treaty of Limerick was signed. He had become one of the wealthiest landowners in the county, with an estate of nearly 6,000 profitable Irish acres, besides a further enormous area of waste and leasehold. His will, dated 10th August 1690, was proved at Dublin in 1692 and witnessed by William Butler, Henry Stephens, and Richard Wilson. The arms on his seal, and on those of his grandchildren, was three fleurs-de-lys on a bend azure.
"30 Oct. 1691. Letter of attorney from Elizabeth Ivers (relict of Henry Ivers late of Mount Ivers, Co. Clare) to her son, John Ivers, to receive the rents of her third part of the real estate; the other two-thirds being for the education of his brothers and sister. Witnesses. Henry Bridgeman; John Cusack; William Ivers; Thomas Ivers; Daniel Hogan. Draft. 17 Jan. 1691. Revocation by Elizabeth Ivers of the preceding deed, which had been " drawen contrary to my intention direction and compleyance ..." Signed & sealed. Elizabeth Iuers. Witnesses. James Conigham ; Roger Col . . . ; Henry Ivers ; William Ivers."
Henry's widow Elizabeth was married secondly to John Croker of Ballinagarde and died in 1709. Henry left at least six sons and two daughters. His eldest daughter was called Martha, adding further fuel to the speculation that he was a kinsman of Sir Sampson Eure whose wife was also called Martha.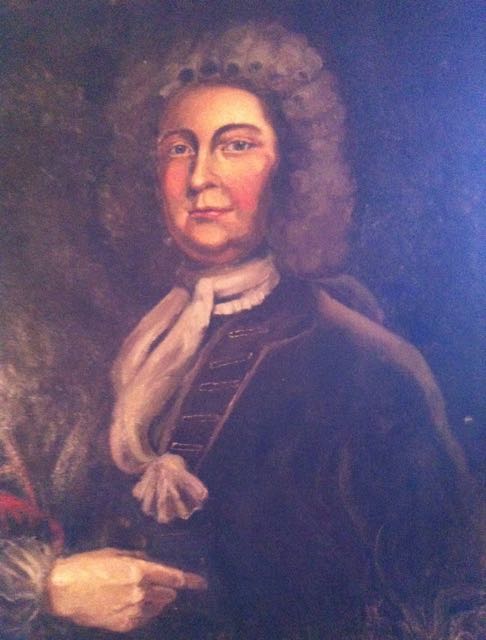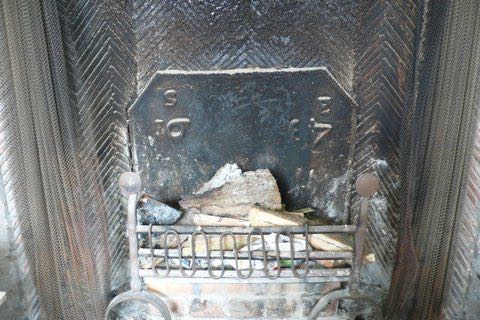 The fireplace dated 1667, the year Henry Ievers was granted over 1000 acres in Clare and Galway.