Colonel John Ievers (c. 1650 - 1729)
Colonel John Ivers was born circa 1650 and was the second son of Henry Ivers by his marriage to Elizabeth Butler. Following the disinheritance of his older brother Henry for marrying a woman 'of noe forune', John succeeded to the substantial family estates upon the death of his wily father in October 1691. He would have been about forty years old at the time.
THE QUIT-RENT CONTROVERSY
The Inchiquin Manuscripts again contain much in the way of deeds, leases and letters pertaining to Colonel Ievers and his properties in Co. Clare. The first to mention him was a petition from June 1689 in which he joined up with Sir William Ingoldsby, Bart., John Cusack and others 'in behalfe as well of themselves as of severall other Protestants in the County of Clare' in complaining to parliament about the double charges of quit-rent.
Under feudal law, the payment of quit-rent freed tenants from the obligation to perform the traditional services of feudal tenure, and simultaneously restricted the landowner exercising rights such as hunting across the land, which could impair farming. It allowed tenants the option to buy their way out of these commitments and to gain some security of land. The problem with paying quit-rent taxes in Ireland had been a long-standing issue since his fathers' first days in Ireland. It stood alongside the despised Hearth Money Tax on fireplaces which was introduced during the reign of Charles I. The Hearth Tax was abolished in England in 1689 but continued in Ireland until Henry Grattan finally succeeded in having it axed over a century later.
THE REVOCATION OF A WILL
Just after his father's death, a letter of attorney from John's mother Elizabeth assigned him the rents of her share – a third – of the real estate. The letter, dated 30th October 1691, adds that the other two thirds of the rents were to go towards the education of his brothers and sisters. Indeed, his younger brothers William and Thomas both signed the letter as witnesses.
However, it seems Elizabeth was unhappy with this arrangement and subsequently revoked it because it had been "drawen contrary to my intention direction and compleyance". The confusion over dates comes to play here as this revocation is dated 17 January 1691, which is, of course, before the above-mentioned letter of attorney or Henry Ivers death. It may be relevant that the signatories of this revocation appear to include John's brothers William and the disinherited Henry.
One would need to be an expert in land law to understand all the shenanigans that followed, and whether the seizure and re-granting of land was vitriolic, run-of-the-mill or some elaborate money-making venture for all concerned. Set against the backdrop of the Williamite conquest, the exodus of the Wild Geese and the simultaneous land confiscations, it is a notoriously tricky area to navigate. In the summer of 1695, for instance, the Sheriff of County Clare was ordered to hand over in excess of 160 acres as a moiety to Richard Henn. These lands, scattered through the baronies of Burren and Inchiquin, had been seised of Henry Ivers in 1687 but had since been in the possession of Mortogh O'Brien, a leading member of the O'Brien family.[iii]
THE BLENNERHASSETT & FITZGERALD CONNECTIONS
In January 1698, John signed a lease and release deal with his neighbour Augustine FitzGerald of Moigh [sic] Castle on 21 acres of profitable land at Ballytarsna, about midway between Ennistymon and Lisdoonvarna.[iv] Sir Donough O'Brien was also involved in this arrangement.[v]
Augustine Fitzgerald was Colonel John Ivers' father-in-law. His forefathers were the Geraldines of Pallas, Co. Limerick. Family tradition relates that one of the family was instrumental in saving the life of Charles I at the battle of Naseby. Augustine came into possession of Moy Castle when he married Elizabeth Norton, whose father Captain George Norton lived there. The ruins of Moy Castle, which Colonel Ievers must have known, still stand at the head of Liscannor Bay, on the coast-road north from Milltown-Malbay.
As well as being born a Norton, Elizabeth was also a niece of Captain Arthur Blennerhassett, collector of poll tax for Co. Limerick. Captain Blennerhassett, who died in 1696, was one of the '49 Officers who served for Charles I in Ireland in 1649. Colonel Ievers youngest sister Ellen was married to an Arthur Blennerhassett, but it is unclear if this was the same man. During the troubled times of 1688 and 1689, Augustine Fitzgerald had proven 'a kind friend' to Captain John "Black Jack" Blennerhassett of Castle Conway and his brother Thomas, supporters of William of Orange, who were imprisoned in Galway and Dublin for 14 months by James II's supporters.
Ellen Ievers is thought to have been Augustine FitzGerald's only daughter. Her brother Colonel William Fitzgerald of Silver Grove married Jane Bryan of Banemore, Co. Kilkenny [or Banemore, Listowel, Co. Kerry?] and was father to Elizabeth Fitzgerald who would go on to marry her cousin Henry Ievers, the builder of Mount Ievers.
LIFE EXPECTANCY IN THE LATTER YEARS OF THE STUARTS
It is not yet known when John and Ellen were married, but their firstborn son Henry was born in 1696, two years before the Ballytarsna lease was signed. Seven more children were destined for this world before Ellen's untimely death. It was no mean feat bringing a child to adulthood in an age where diseases such as pneumonia, typhoid, polio and measles could be fatal. There was little anyone could do to prevent death, no matter how much money one had. Queen Anne experienced 17 pregnancies between 1683 and 1700. Only five of her children were born alive and only one, a son, outlived infancy, but he did not survive to inherit the throne.
WILLIAM IVERS OF BALLYBROUGHAN
John's younger brother William Ivers died in 1702 or 1703. Little is known of him. He was associated with lands on the mountain at Ballybroughan, near Cratloe, Co. Clare. He was executor to his fathers' will in 1691 and married a Miss. Catherine Croker who was presumably a kinswoman of his stepfather John Croker. Whether they had children or not is unknown. Perhaps he lies buried in the graveyard of St Fintinan's Church in Ballybroughan but it seems all traces of this church have vanished, although the ruins of the building itself may have been incorporated into the wall of the Kilfintinan graveyard.
THOMAS IVERS OF CORCAMORE
We also know nothing about John's fifth brother Robert. However, we do have some details about his fourth brother, Thomas, who had land at Graygrove, near Kilmihil, West Clare, and also in the O'Brien barony of Corcamore. As well as Henry, Thomas had another son George Ivers (who married and had a son James) and a daughter Elizabeth.
Thomas may well have been married to a daughter of Thomas and Sarah Wilkinson of Caherelly, Co. Limerick, and a niece of John Vesey, who became Archbishop of Tuam in 1679, as well as Lord Justice of Ireland.[vi]
A deed dated 28th January 1714 refers to Thomas and his son Henry (who succeeded to Gray Grove) and states that on completion of the deed, Thomas was to discharge various debts.
Thomas Ivers of Corcamore [sic] was involved in a dispute with Sir William Barker that came before the House of Parliament in 1727 and 1728.
Colonel John Ievers's sixth and youngest brother was George Ievers, father to Robert Ievers who succeeded to Mount Ievers, and so to him we shall return.
ELLEN BELLNERHASSETT AND MARTHA O'BRIEN
John youngest sister Ellen was married to Arthur Blennerhassett, as stated above. His other sister Martha married Donnogh O'Bryen of Dough, Co. Clare. Donnogh was a great-grandson of Sir Turlogh O'Brien and a grandson of Daniel O'Brien of Dough who steered the family safely through the Cromwellian conquest, being one of the few Catholic gentry to be awarded a certificate of 'constant good affection'. Daniel also earned widespread praise for his kindness to shipwreck survivors in 1642. In 1682, Donnogh was granted lands in the baronies of Corcomroe, Burren and Inchiquin, amounting to over 5,000 acres. Donnogh's parents were Connor O'Brien and Elena O'Shaughnessy. His maternal grandfather was Sir Dermod O'Shaughnessy, Knt., of Gort, County Galway, an estate which later passed to the Prendergasts. In another generation, intermarriage between the Ievers and the Catholic O'Shaughnessy family would lead to disinheritance.
THE CHICHESTER HOUSE COMMISSIONERS
In 1703, John Ivers considerably increased the size of his landholdings, buying up property from the Chichester House Commissioners in Dublin. All of these lands came from families who had been attainted for their adherence to the Jacobite cause over a decade earlier. He purchased the Co. Clare estate of the attainted Colonel Richard Grace at Cloontra, Nicholas White's forfeited estate at Ballybroughan and - together with John Cusack of Kilkisheen and Hector Vaughan of Knocknemail, King's County (Co. Offaly) - he also acquired part of the Cloongaheen estate of Captain Teigue O'Ryan and his brother John, who were attainted in 1696.
CLARE MILITIA DRAGOONS
John Ievers was Colonel of the Clare Militia Dragoons but specific details about his service have not yet come to light. The Dragoons had been established by Daniel O'Brien, 3rd Viscount Clare, his father's sometime patron, but then declared itself for James II during the Williamite Wars.
It is possible that John was the 'Colonel Ivers' who, alongside General William Cadogan (later 1st Earl of Cadogan, pictured), was appointed Quarter-Master by the Duke of Marlborough and entrusted with setting up encampments as the army marched from the Spanish Netherlands through Franconia to the Danube in 1704. Ivers and Cadogan were described as 'men of great dexterity and skill in everything relating to that business'. This placement of John Ivers on the frontlines of the War of the Spanish Succession becomes ever more likely when one considers that Colonel John Ivers' daughter Lucy married Jeffrey Prendergast, whose brother Sir Thomas Prendergast was married to Lord Cadogan's siser Penelope.
POLITICAL POWER
Quarter-master or not, the Colonel was certainly heavily involved with the organization of County Clare. In 1707, for instance, he was serving as sub-sheriff to George Hickman's High Sheriff (alongside Mr. Harrison).[xi] Three years later, he filled the seat of High Sheriff which his father had held 37 years earlier.
At the General Election of 1715, called shortly after George I succeeded Queen Anne to become King of Great Britain and Ireland, the Whig party swept to victory. Amongst those elected was Colonel John Ivers who, alongside Francis Gore, defeated the O'Briens, Sir Donough and Lucius. He was to remain MP for Co. Clare through until 1727. Gore fared rather less well and died the same year as the election; George Purdon filled his seat in a bye-election.
The Colonel's time as MP was an era dominated by the controversy of Wood's Halfpence, the dominance of William 'Speaker' Dublin, the literary genius of Jonathan Swift, the construction of the new Parliament House in Dublin and the foundation of the Dublin Society. While Parliament sat, the Colonel took a house on Stephen's Green, Dublin, but it is not yet known which house was his.
Amongst some of the earliest documents pertaining to his new role as MP are some letters from 1715 and 1716 to Sir Donough O'Brien, 1st Bart., concerning proposals to build a barracks at Sixmilebridge. Prior to his election, there also seems to have been some questions raised locally about precisely how much profit the Colonel was making from a moiety he held on the Sixmilebridge lease. This is presumably connected to the evolving industrialization of the area, with the increase in millers of Dutch origin operating along the riverbank, and a growing trade with the Netherlands.
Amongst Colonel Ivers' employees was Roger Cusack whose job was to be 'a servant to look after ye workmen'. His son Edward Cusack, born about 1684, would go on to become one of the greatest patrons of Dr. Steeven's Hospital in Dublin.
THE MARRIAGE TO MISS WILSON
It is not yet known when Colonel Ievers first wife Ellen died. She left him with four sons (Henry, Augustus, William and Thomas) and four daughters (Mary, Elizabeth, Jane and Lucy), about whom more anon.
On 4th August 1718, the Colonel was married secondly to Margaret Wilson, the 35-year-old widow of Ralph Wilson of Kishiquink, Co. Limerick.[xv] Margaret's father was Edward Warter of Cullen, Co. Tipperary, who died on 17th June 1685, while her mother Alice Warter was the widow of Captain Arthur Blennerhassett and thus an aunt of Colonel Ievers' first wife.
The Inchiquin Manuscripts include details of a case in 1727 of John Ivers against Sir Edward O'Brien, Sir Donough's young heir, who unseated the Colonel at the election of that same year. The consequence of the case obliged the Colonel's son Henry to reach an agreement with Sir Edward and appears to have prompted a shift in local influence.
DEATH & LEGACY
The Colonel was by now an old man and he died in the winter of 1729, shortly after Jonathan Swift, Dean of St. Patrick's Cathedral, published "A Modest Proposal", his sharp satire of the Irish predicament proposing that the rich should eat the children of the poor, to the benefit of both parties.
Colonel John Ievers was buried on 4th December 1729 and it appears his wife died five years later. An old brass sun-dial at Mount Ivers bears the inscription 'Margaret Ievers, Julye 18. 1733'. It seems likely this was the Colonel's second wife and the date she died.
It is said that John was the man who changed the family name from Ivers to Ievers, although his sons were still recorded by the name of Ivers when they graduated from Trinity College Dublin in 1719. The coat-and-arms he used were apparently the same as those borne by the Sir Sampson Eure's ancestors over 400 years earlier.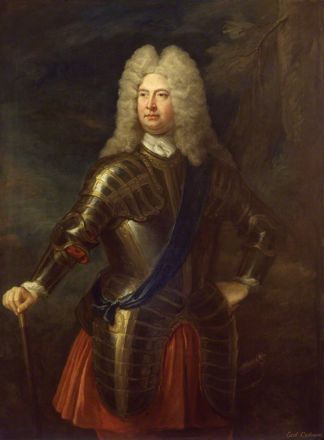 The 1st Earl of Cadogan, a kinsman of the Ievers.